So how did Auntie fare Against Murdoch?
by Andy Hemmington March 22nd, 2012
So, the opening race of the season is over. My assessment of Sky is coming next week, but this week I turn my attention to the BBC. When it had Formula One all to itself it didn't do too well, so how has it fared now it has some competition? Here's my hypercritical overview of Auntie's first foray into the 2012 championship.
Commentary Problems
And I quote from The Telegraph:
'The move will mark Edwards' return to live F1 commentary for the first time since 2002, when he was paired with John Watson for a sole season on Sky's pay-per-view F1 Digital+ channel.'
We can mock Martin Brundle until the sun goes down (and he needs a good mocking) but he never, ever sided with the underdog. Throughout the Australian Grand Prix, two sounds dominated: the effervescent roar of the engines, and Ben Edwards egging on the drivers like a proud parent. A daring overtake should be regarded with detached appreciation, not the glowing, obsequious, borderline demented harpings of a man who was never really good enough.
David Coulthard: Man Chimp
David Coulthard is to Formula One what Mark Lawrenson is to Football – a bitter, cynical individual deriving pleasure from failure. Every time Schumacher makes an appearance in the BBC's coverage I reach for the earplugs, knowing, just knowing, that Coulthard will make what he thinks is a sly dig. Which, to everyone else, is a hammer blow insult. It's like trying to crack jokes during The Budget. It's not big, and it's not clever. Coulthard, know thyself.
Jake Humphrey: Man Chimp
Bless Jake Humphrey. If he was my brother I'd argue he was doing a sterling job. But he's not, so he's not. Standing there like an Andy Serkis CGI rendering, he patties about his iPad like Denis Norden posthumously introducing an It'll Be All Right On The Formula One Night show. When you stick him in the same camera shot as Eddie Jordan it's like Cannon & Ball never left mainstream television. Hosting the Bowls, or Olympic Curling, or Table Tennis, Jake would be a fine addition to the BBC's solid sporting presentation line up, but Formula One? This is the second biggest sport the Beeb deals with on a regular basis. Was Ray Stubbs busy? Even John Inverdale would be preferable, and I say this as a man with a staunch aversion to perma-tans.
Lack Of Unnecessarily Attractive Pundits
It's true that the idea of, to put it in my local carpenter's words, 'good looking wool', belongs in the dark ages with Men Behaving Badly and guys who think Mad Men is a reflection of how the world should be. But a base, undignified part of me does long for a pundit who doesn't think white chinos are the height of fashion, for whom the act of appearing professional is as important as being professional. Men or women, I don't really care, just give me something nice to look at. This is a visual medium people, let's not pretend otherwise.
No Ad Breaks
The best thing about the BBC is its lack of advertising. This is particularly advantageous with sports coverage, when ad breaks are replaced with cut scenes of Alonso looking moody, or Schumacher looking doubtful that anything he's done since 2009 constitutes a good decision. Yes, I like this, I will always like this, and bless you Auntie for providing us with uninterrupted coverage, however bad it may be.
That Theme Tune
It never gets old. It's the greatest sports theme in the history of sports themes. The ridiculous CGI accompaniment only sweetens the deal. Formula One races are proper events, and Fleetwood Mac's The Chain is the only appropriate way to open any coverage to such things. Even typing about it gets me excited.
Jenson Button & Lewis Hamilton
Above all else, the fact that two Brits shared the front row of the grid for the opening race of the season is key to Formula One's prosperity in the UK. We're really good at this sport at the moment, and it doesn't really matter who is relaying this fact to us. Both Button and Hamilton have charisma in a way that Wayne Rooney, Andy Murray and Rory McIlroy don't. We should be deeply thankful for this, because charismatic, compelling sportsmen come along so rarely and right now we have two Brits operating at the very top of one of the most exciting, downright magical sports in the world.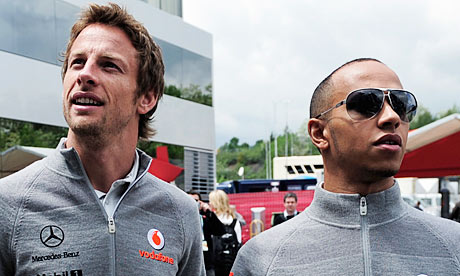 What do you think? Do you still stick with the BBC or have turned to evil Sky??!